Sevilla Food Guide
Don't miss out on tapas in the city credited with their invention! There are more than a thousand tapas bars in Sevilla where the choice of food is virtually unlimited, from seafood to ham and sausage, from vegetable to cheese. Sevillanos make a meal of tapas, and often move from bar to bar to try one dish at a time. Get around to all the best tapas bars with a Sevilla car hire.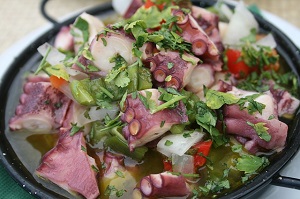 Like the croissant is to Paris, tapas are a key part of life and integral to local culture in Seville, both gastronomically and socially. Most Sevillanos spend their evenings out going from one tapas bar to the next, or ir de tapeo.
The selection and quality of food are both invariably superb, you can eat as little or as much as you like, and you will usually find somewhere serving food no mater what time of day it is. The seafood and ham are especially worth a try.
In some tapas bars you will order at the bar and have to collect the tapa yourself when it is ready, which is usually just a matter of minutes. In others you'll have the option to sit at a table and be served by a waiter. Most tapas cost between 1.50 and 2 euros. Save on your trip around town to try all the tapas with a cheap car rental in Sevilla.