Welcome to SevillaAirportCarHire.com
We offer the best car rental rates in Sevilla Spain. This is the cheapest way to book a car hire in Seville and get the low cost 7 seater car hire, 9 seater car rental or luxury car in Seville.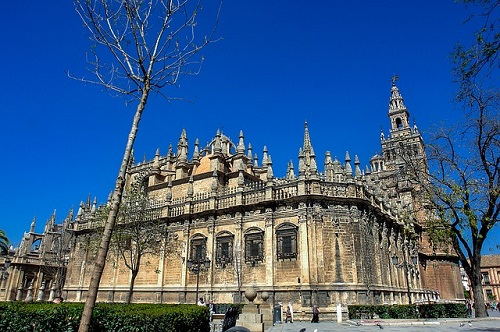 Hire a car online! To book a car for collection at Seville Airport, select "Spain" from the Country list and one of the many locations listed under "Seville Airport" from the Pick Up location. Addresses are shown for all pick-up locations before your car rental is confirmed.
We are powered by carhirex.com, the most trusted name for Online Car Hire, working worldwide with more than 550 car hire companies.
Sevilla Airport Information
Rent a car from Seville Airport, known in Spanish as Aeropuerto de Sevilla San Pablo, located 10 km northeast from the city; it's the only airport in the area. This airport moves around five million passengers a year and it is one of the largest airports in Spain. Flights within the country include destinations such as Palma de Mallorca, Tenerife, Madrid, Alicante, Almeria, Valencia Barcelona. And other cities like Paris, Brussels, Rome and London
Sevilla Tourist Information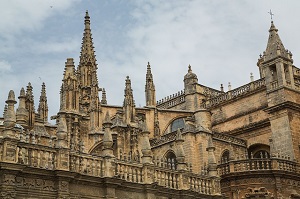 Collect your rental car from Seville Airport and start your adventure into this cultural jewel, capital of Andalucía, the magnificent city of Sevilla. Its history and architecture make this place one of Spain's most representative locations.
There's El Museo de Bellas Artes de Sevilla, the most visited museum in Andalucía. With your Seville Airport car rental, one place you definitely should not miss is its Cathedral or La Catedral de Sevilla; it is the largest gothic cathedral in the world, it was built from 1402 throughout several centuries, and for this reason you will be able to recognize different architecture types: gothic, renascent, baroque, academic and neo-gothic.
Along with this remarkable structure there's also the Giralda, el Patio de los Naranjos which means Orange's Garden and the Capilla Real - Royal Chapel. If you feel like getting a good sense of this city's ancient essence, you might want to park your rental car in Seville and have a nice and refreshing ride on one of the horse carts, the city also offers other means to admire its beauty such as panoramic buses and mini-cruises.
Top locations to visit with a rental car from Seville Airport
Italica, located 7km from Sevilla, is a nearby ancient roman city you might want to see; and there's also Carmona, 33km from Sevilla, taking the national road IV or ES. Rent a car from Seville Airport and here you will find the famous Puerta de Carmona, an outstanding structure that welcomes you to enter into its grandeur. And if you decide to continue in the same road, up north with your discount cheap rental car, about one hour from Carmona, you will find the city of Córdoba, a place that combines both modern and ancient structures, and holds the beautiful Gardens of Alcázar or Jardines de Alcázar.
Hotels in Sevilla
Book a Hotel in Seville!. One of the most significant hotels in Sevilla is Hotel Alfonso XIII; this would be an excellent way to complement your stay, combining luxury, style and beauty. Among many others there's the Hotel Vincci la Rabida, Hotel Las Casas de la Juderia, Silken Al Andalus and Vime Corregidor, a good variety to suit your price and commodity preferences.
And of course, don't forget to try the different tapas bars the city has. Tapas are a typical Spanish custom, born right here in Seville, which consists of a small delicious side dish to accompany a glass of wine, beer or any other beverage. Seville is famous for having tapas bars and this is a charming and wise way to get a good taste of this city's gastronomy.
There's an endless list of tapas, and they abide to the expert's creativity, who will be ready to surprise you with magical combinations of flavours. This custom is a gift from Seville to the world, and there's even a special celebration for tapas: La Feria de la Tapa where all kinds of original tapas can be tasted, during the Holy Week, in April, but there's definitely no need to wait for this event to try tapas. Both Sevilla and its tapas are there all year round.
Book online a 7 seater car in Sevilla, 9 seater car and luxury car rentals to collect in Sevilla Spain. This is the cheapest car hire in Seville Airport.
Sevilla Airport Car Hire Rates Include:
Collision damage waiver
Theft protection
Third party liability insurance
Tax (VAT)
Unlimited mileage and location/airport fees.