Car Rental from Sevilla Train Station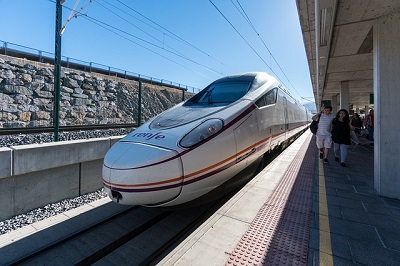 The town of Sevilla in southern Spain is accessible by train via its Santa Justa Train Station. The station is served by the AVE high-speed rail system, and is operated by the Spanish formerly state-owned rail company RENFE. If you plan to arrive in Sevilla by train you can arrange for private transportation in the city with a Sevilla car hire.
Sevilla Train Station
Sevilla Santa Justa Station is located on the eastern edge of Sevilla city centre. Construction of the rails and station was completed in 1991, and the station is the southern terminus of the Spanish high speed AVE train service. The high-speed lines are great if time is of the essence. With this line you can get from the city of Córdoba to Sevilla in less than an hour, and the train ride all the way from Madrid to Sevilla is less than three hours.
If you are not in a hurry to get from one city to another on your Euro-tour through spain, an excellent way to enjoy the scenery of Spain's country side is through the window of a train. Slower trains are always the better bargain, and there is an overnight train that runs from the city of Barcelona to Sevilla in round 11 hours. Save even more by reserving a cheap Sevilla car rental online for your time in Barcelona or Sevilla.
To get around the city of Sevilla you can use their excellent public transportation system The busses run frequently and cover the majority of the city in their routes. A tram system is currently being incorporated into Sevilla's local transportation as well, and is running from the San Sabastian Bus Station to the Plaza de Nueva. However, it is always more convenient not to have to rely on public transport schedules and have your own car hire Sevilla.